ARTISTIC STATEMENT – FIRST SOLO EXHIBITION –
With the chance of my first solo painting exhibition in a marvellous building in the centre of Piraeus ( Dimotiki Pinakothiki Pirea – Filonos 29) From 10- 15 of October 2022 I attach here
my ARTISTIC STATEMENT :
MY INSPIRATION COMES FROM AND IS FUELED BY THE IDEA OF PRESERVING CHILDHOOD OR, FINDING IT UNDER "MANY LAYERS OF ADULTHOOD".
MY MOST RECENT WORKS RETURN TO THE ADULT, THE RIGHT TO PLAY (AGAIN).
I LOVE TO CREATE LARGE ORGANIC FORMS AND I RARELY DRAW SHARP SHAPES IN MY PAINTINGS.
THE COMPLEX OF COLOURS AND THE INTERACTION OF DIFFERENT TEXTURES ARE DECISIVE FOR THE EFFECT I WANT MY WORKS TO GIVE.
AT ANY POINT IN THE PAINTING THAT YOU MAY LOOK AT, SOMETHING IS HAPPENING IN TERMS OF TEXTURE AND DETAILS, JUST LIKE IN LIFE, WHERE SIMULTANEOUSLY, DIFFERENT UNIVERSES INTERSECT AND COLLIDE OR CROSS-FERTILIZE EACH OTHER.
MY FAVOURITE MEDIUM IS ACRYLIC PAINTS BECAUSE THEY DRY QUICKLY AND I USUALLY WORK AT A FAST PACE TO STAY IN THE VIBRATION OF MY INSPIRATION. LATER I VISIT THE SAME WORK AT DIFFERENT TIMES, TO INSIST ON DETAILS, OBSERVE IT AND DECIDE WHICH PATH I WANT IT TO TAKE.
I OFTEN USE OIL PASTELS BECAUSE I REALLY LIKE THIS MATERIAL AND THE QUALITY IT CAN GIVE TO DETAILS.
MY FIRST WORKS (PERIOD 2016-2020) ARE MADE WITH THE SPATULA TECHNIQUE AND WERE THE FIRST TEST BEFORE I TRANSITION FROM REPRESENTATIVE PAINTING TO MORE ABSTRACT FORMS.
THE SUBJECTS I CHOOSE IN THAT PERIOD ARE MORE ABOUT THE ENVIRONMENT AND LESS ABOUT HUMAN FIGURES. I AM INTERESTED IN LANDSCAPE AND LIGHT.
IN MY LATEST WORK (2021-22) THE NEED FOR A FAITHFUL REPRESENTATION OF NATURE AND FORMS HAS BEEN ABANDONED, MY PAINTINGS ARE MORE ABSTRACT ALTHOUGH WITH AN EMOTIONAL CHARGE, WHICH IS OFTEN REFLECTED IN THE TITLES I GIVE TO MY WORKS. TITLES THAT COME TO MY MIND FROM THE FIRST STROKE I PUT ON THE CANVAS AND FOLLOW ME THROUGH ALL THE STAGES OF ITS CREATION.
I LOVE TO OBSERVE THE VIEWER'S REACTIONS TO EACH OF MY WORKS, WHETHER IT MOVES THEM – OR REPELS THEM, OR AWAKENS SOMETHING IN THEM THAT THEY CAN'T DECIDE WHAT IT IS…
THE MEMORY OF CHILDHOOD, AND THE GAME IN WHICH I EXPOSE MY PAINTINGS TO THE PUBLIC, GIVE THE TITLE TO THIS EXHIBITION.
AGGELIKI VOURTSI OCTOBER 2022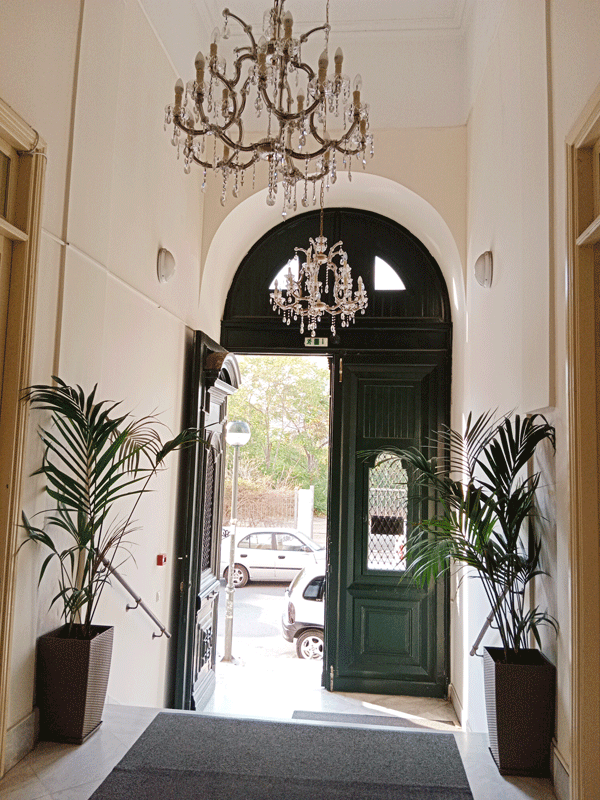 The invitation of the event ( sorry in Greek – due to locality constrains )